Railroad Teams Create Operating Plans and Track Designs
The town of Utting, Arizona, is home to just 558 residents. But with Rose Acre's Lone Cactus Egg Farm located there, far more laying hens – millions, in fact – call Utting "home" than people! And G&W's Arizona & California Railroad Company (ARZC) plays a key role in keeping those hens well fed.

LaPaz Economic Development Corporation (EDC) initially approached ARZC about the opportunity. With the farm built to serve markets in California, which by law requires eggs come from cage-free facilities, the EDC recognized that a site just across the border along ARZC's line in isolated desert would offer family-owned Rose Acre cheaper land prices and lower risk of avian flu contamination from other birds.

ARZC and G&W's industrial development team created initial operating plans and loop track designs to bring in chicken feed from suppliers in the Midwest, primarily in Iowa and Nebraska. When the company discovered that its initial site was on a flood plain, ARZC created new plans and designs to accommodate an alternate location.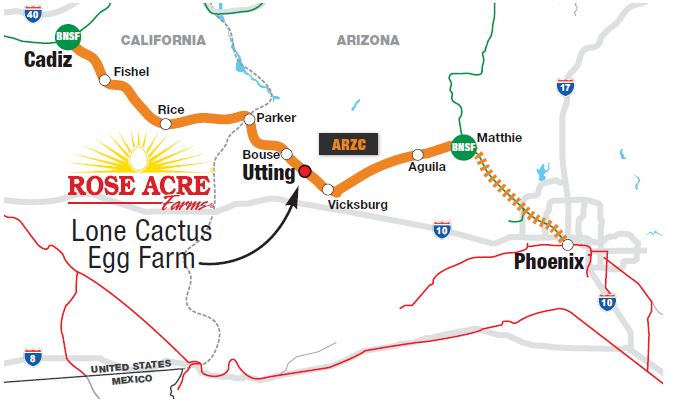 The team then met with BNSF Railway, for which ARZC is an interchange partner in Cadiz, California, and collaborated on drafting subsequent track designs as well as in establishing pricing.

Construction on the project began in June 2015, and the first inbound shipment occurred in early 2016. ARZC serves the farm roughly three times per week.

Through this project, ARZC demonstrated how short line partners can offer dedicated and customized service that meets individual business needs.