Railroad Plays Active Role from Conception to Completion of Customer's New Rail-Served Facility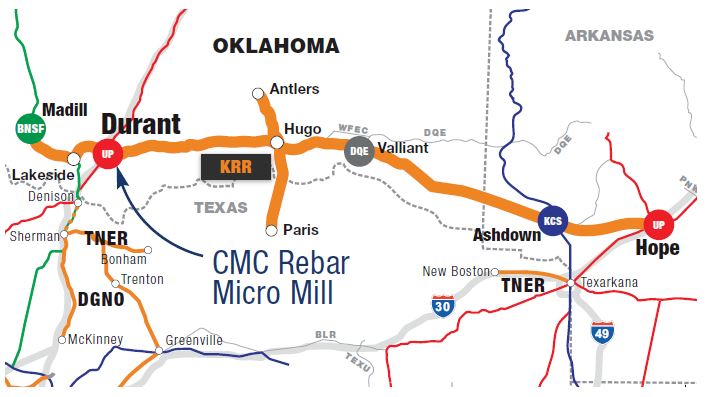 G&W's Kiamichi Railroad (KRR) played an integral role in Commercial Metals Company's (CMC) decision to locate a rebar micro mill in Durant, Oklahoma.
In 2015, CMC approached G&W's industrial development team to discuss potential rail service at its future state-of-the-art site. With a route that runs through Durant and offers access to Kansas City Southern, Union Pacific and BNSF railroads, the team knew that KRR was well positioned to support CMC's business.

After several meetings with the Durant Economic Development Corporation, the Choctaw Nation and the State of Oklahoma, the industrial development team produced complimentary track-design concepts for KRR service to and from the mill. Construction on the facility and track began in the fall of 2015, and KRR hauled the first shipment in summer 2017.
Today the mill receives inbound scrap metal, predominantly from nearby Dallas-Fort Worth, to produce rebar (or steel rods used to reinforce concrete structures) for shipment to customers in Colorado, New Mexico, Missouri and as far as the Dakotas. It employs 120 people in a community of 16,000. KRR serves the facility five days per week and transports roughly 2,500 carloads per year to interchange.
This project illustrates a short line's keen ability to help customers strategically locate facilities and link them to broader markets.