Railroad Adds Service and Additional Locomotive Power, Hauls Ample Supply of Empty Railcars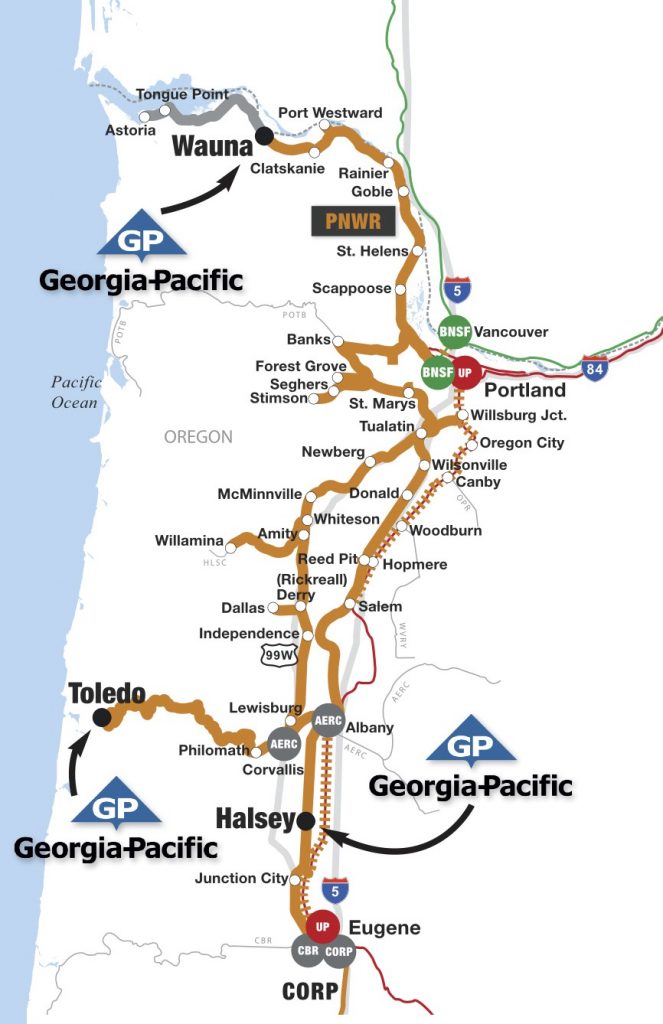 With state orders to stay at home and social distancing guidelines in place during the COVID-19 pandemic, residential consumption of toilet paper, facial tissue and paper towel products increased dramatically – almost overnight – becoming among the most sought-after essential items and stressing the industry's delivery logistics. In fact, the Statista Consumer Market Outlook claims that toilet paper sales in the U.S. for March 2020 rose by nearly 60% compared to the same period in 2019.
The stay-at-home orders also increased the need for shipping containers and boxes, made from wood fiber and necessary for expanded home deliveries. As paper-product producers worked to meet the intense demand, G&W's Portland & Western Railroad (PNWR) continued to play a vital role in supplying raw materials to the sector at several customer manufacturing facilities in Oregon.
For 25 years, PNWR has carried inbound wood pulp to Georgia-Pacific mills in Wauna and Halsey, Oregon. The pulp is shipped by rail from Beaumont, Texas, and used at the Georgia-Pacific mills to make an immediate product for personal paper-product producers who finish, package and distribute such goods to the consumer market.
Over that same time period, PNWR has hauled inbound wood chips and outbound containerboard for the Georgia-Pacific plant in Toledo, Oregon. The chips are shipped by rail from Lincoln and Anderson, California, while the containerboard is shipped out over PNWR to box and packaging plants throughout western states.
"We did everything we could to exceed the level of safety and service that Georgia-Pacific has come to expect of PNWR over our 25-year relationship," says Matt Artz, director of sales and marketing for the railroad. "They depend on consistent service, particularly through the pandemic, so that they, in turn, can keep their commitment to customers. We thank them for choosing rail during unprecedented times."
Don Craine, then-general manager of PNWR, says that his team was in frequent communication with managers at the three plants.
PNWR was very helpful during these times with support coming in three primary areas – adding days of service for inbound raw materials, ensuring that we received ample supply of empty railcars for loading finished goods and adding additional locomotive power to pull the increased outbound loads to our warehouses and customer sites.

Jim Crawford, logistics team leader at Georgia-Pacific's Toledo site
PNWR serves customers along 516 miles through central and western Oregon, transporting primarily chemicals, forest products, grain and steel.